Gentianopsis crinita, greater fringed gentian, has stunning heavenly blue fringed flowers. It is a native herbaceous biennial plant that blooms in the early fall. The beauty of the flowers have inspired poets!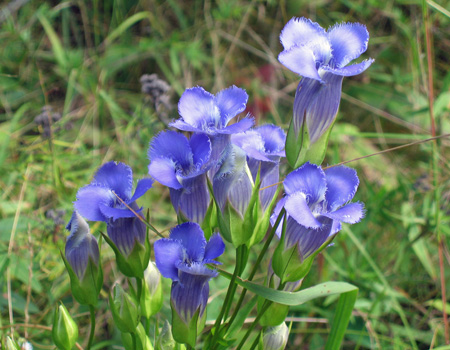 To the Fringed Gentian by William Cullen Bryant

"Thou comest not when violets lean
O'er wandering brooks and springs unseen,
Or columbines, in purple dressed,
Nod o'er the ground-bird's hidden nest.

Thou waitest late and com'st alone,
When woods are bare and birds are flown,
And frosts and shortening days portend
The aged year is near his end.

Then doth thy sweet and quiet eye
Look through its fringes to the sky,
Blue-blue-as if that sky let fall
A flower from its cerulean wall. ....... "
Flowers
Gentianopsis crinita, greater fringed gentian, has flowers that are sky blue, trumpet shaped, and skyward facing. The corolla (flower) tube opens up to 4 delicately fringed rounded lobes. The flower is about a 1.5 to 2 inches wide across the top. The throat is white with blue stripes. The base of the flower on the outside is wrapped by 4 sepals which are green to reddish green with prominent ridged midribs.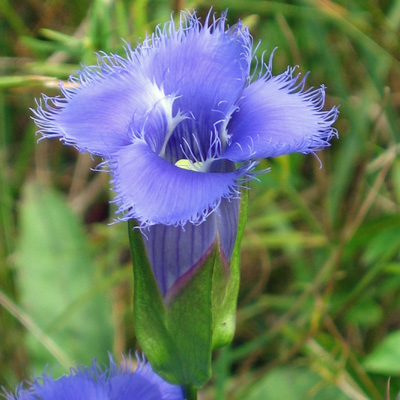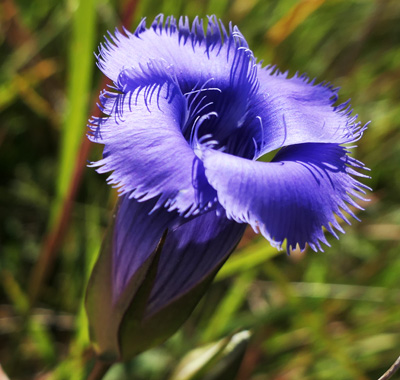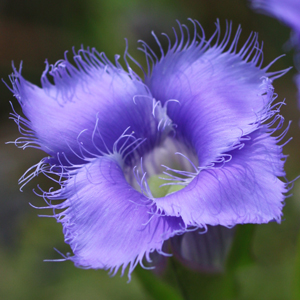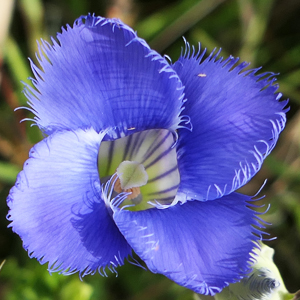 The flower bud with 4 sharp ridges.
The petals are uncurling.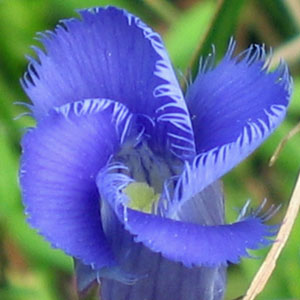 For a look inside, the creamy yellow- white stigma and 4 orange anthers can be seen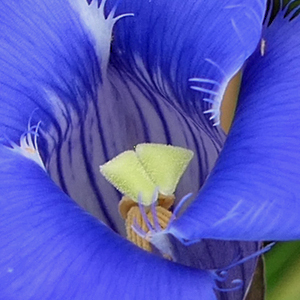 Flower clusters: Flowers form singlely on top of long (to 7 inches) erect stalks that branch from the erect main stem.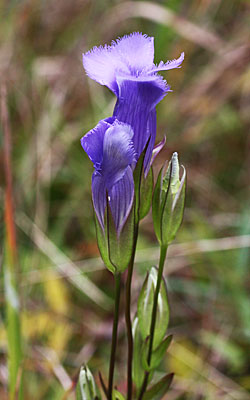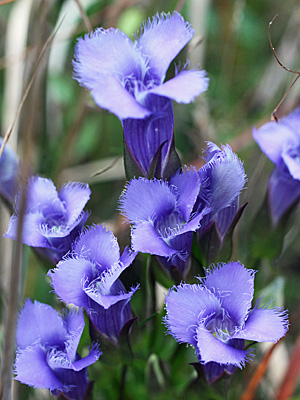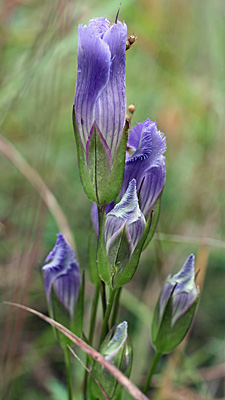 The flowers open on sunny days and remain closed at night and on cloudy days.
Leaves and Plant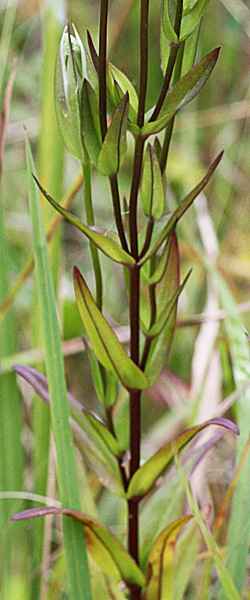 The plant is 1 to 2.5 ft. tall. Each plant produces many upright flower stalks with a flower on top of each . The leaves are simple, opposite, sessile, narrow with toothless margins and are about 2.5 inches long with a prominent vein down the middle. The stems are green to reddish green and smooth.
The plant is biennial so the first year it produces a low rosette of leaves and the second year it produces the tall stem with flowers. It relies on successful seed production and germination to survive.
Last photo shows mature fruit and opened seed capsule.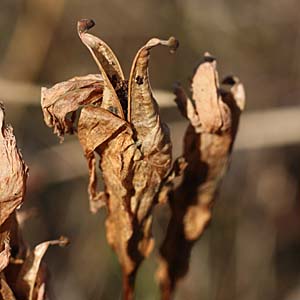 Habitat
Habitat: moist areas in meadows, woods, streambanks. If the meadows are mowed before the plants seed, then the plant populations are reduced.
The fringed gentian is not considered threatened in NJ but they are not common. However, it is threatened in many of the states that it is found.
Text by Millie Ling and all photos by Hubert & Millie Ling: September in years 2004 to 2020, Somerset County. Also seen in White Lake area in Sussex County.
Cultivation
There is one place on the internet that sells Gentianopsis crinita seeds. A continually moist area is needed for propagation success.
Additional information