Home Resources Gardener News reprints: Deer Proof Pink Pom-poms In Your Garden?
This article by Hubert Ling (NPSNJ horticulture) was published in Gardener's News without the photos. He is a regular contributing writer to Gardener's News. Photos by H & M Ling.
Deer Proof Pink Pom-poms In Your Garden?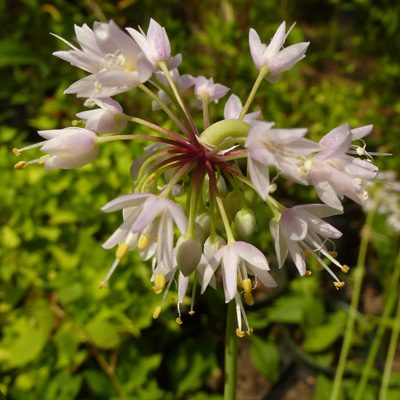 Well almost! Nodding onion, Allium cernuum, may not be deer proof but it is just about the last plant to be utilized by deer or rabbit. Herds of deer pass through and often sleep in our yard but nodding onion just keeps on nodding. My other deer 'resistant' plants: spice bush, mints, ferns, and bloodroot have been less fortunate and are severely damaged or extirpated from my unfenced front yard.
Nodding onion is a well behaved plant which grows to 1-2' and in July produces 1-2" pink pom-poms with up to 40 small pink, star shaped flowers in a cluster. However, some less common varieties have white or purple flowers. The thin grass like leaves of this plant form a loose basal rosette about 1' in diameter. After the seeds mature an interesting tan pom-pom remains which can be used for dried plant arrangements.
Allium is the Latin name for garlic and cernuum means nodding. The city of Chicago's name is from the Algonquin name for nodding onion, chigagou. This plant has the largest range of any native Allium and grows naturally in Southern Canada, in most of the 48 states, and in Northern Mexico. In NJ it is confined to the northern half of the state.
Propagation of nodding onion can be done by dividing clumps of bulbs and stems in the fall. However, the seeds germinate well and the young plants are easy to raise since they survive even if you forget to regularly water them. Nodding onion also spreads slowly in your garden from seed but if this is not desired the flowers can easily be deadheaded. The plants grow best in cool weather and generally lose leaves during late summer but start new growth in the fall. Nodding onion grows best in full sun, in neutral to alkaline soil, and with moderate moisture. However, the plant is not fussy and will tolerate partial shade, and moderately acid soil. Mature plants are generally drought and pest resistant and tolerate black walnut trees. The plant has received the Royal Horticulture Society Award of Garden Merit.
Nodding onion flowers are quite distinctive since the flower stalks curve sharply down at the tips which produce the pom-poms with most flowers suspended dangling downwards. Any insect which seeks nectar or pollen must be able to cling to flowers while hanging upside down. This interesting flower positioning presumably protects the nectar and pollen from rain. Short tongued bees, butterflies, and hummingbirds are attracted to the nectar. Nodding onion is a host plant for caterpillars of hairstreak butterflies and the bulbs are used as food by bears and ground squirrels.
Although I don't understand why anyone would rip such a beautiful plant out of the ground, nodding onion is edible if taken in small amounts. Eating large amounts may cause diarrhea, nausea, or vomiting from herbivore repelling sulfides. However, I feel that way about raw commercial onions also. All parts of nodding onion have been used as food: leaves, bulbs, and flowers. They can be used raw or boiled for pickles, salads, or for seasoning. If the flavor is too intense you can parboil the bulbs for a few minutes and discard the water or you could go to the local store and buy a large mild onion.
Throughout nodding onion's range Native Americans sparingly used the plant for seasoning and also medicinally. The Cherokees, other Native American Nations, and colonists used the bulbs for colds, fever, kidney stones, and as a poultice applied to the chest for respiratory problems. However, I did not find any evidence that nodding onion actually is effective as a medicinal plant although garlic is known to increase circulation to the skin (a rubefacient).
Nodding onion is useful in a herb, rock, or butterfly garden. You can use it in low maintenance, drought resistant plantings, as a groundcover, and in perennial borders. It works well with butterfly weed, wild bergamot, Joe-Pye-Weed, and purple coneflower since all bloom at about the same time. If you are looking for a beautiful, novel plant give nodding onion a grow.