Welcome to Awesome Native Plants
NEW - Plant Profile & Photo Page
Winter in the Woods
Aplectrum hyemale - Puttyroot Orchid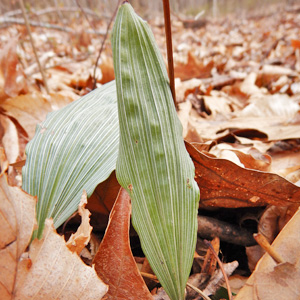 Here is another orchid that has leaves in the winter and early spring that senesce by spring. Keep your eyes open for these green leaves with distinctive whitish parallel veins. They belong to the rare orchid: Aplectrum hyemale. Be sure to revisit the location in May to see the flowers. Click here to see the flowers.. Start thinking spring Spring Plant Profiles & Photos
NEW - Plant Profile & Photo Page
Winter in the Woods
Tipularia discolor - Cranefly Orchid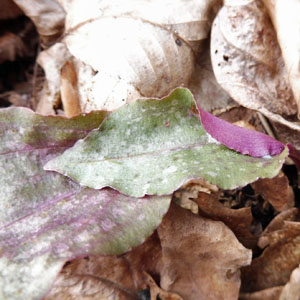 As you enjoy the cool winter and early spring air, keep your eyes open for these greenish leaves with a distinctive maroon underside. They belong to the very uncommon Tipularia discolor. Make note of the location and revisit in early August to see the flowers. Click here to learn more.
Also See our Winter Scenes


Last Flowers: Almost Gone for the Season
Hamamelis virginiana - American Witch Hazel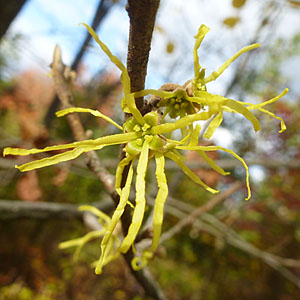 What does a plant that flowers so late in the season do about seeds when most plants already have produced their seeds before the cold weather? Did you know witch hazel flower get pollinated in the fall but fertilization does not happen till next spring! Read: Click Here.
Also See 'Gardener News' on Witch hazel
See our Autumn - Winter Plant Profiles & Photos
NEW - Plant Profile & Photo Page
Gentiana saponaria - Soapwort Gentian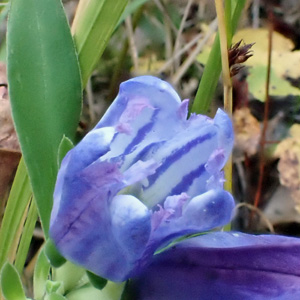 We were very excited to see these uncommon / rare plants out in the open woods. When the flowers are not open as in this photo it is difficult to distinguish G. saponaria from the other NJ gentians: G. andrewsii,G. clausa. Read more.. Also see our Autumn - Winter Plant Profiles & Photos



About AWESOME NATIVE PLANTS
This is the website of Millie & Hubert Ling. This site was created in September 2021 and is is dedicated to Native Plants mainly of New Jersey with a focus on the Plant Profiles & Photos pages. The goal here is to continue these. Also we will be adding trip reports of our many hikes in NJ. Hubert is a regular writer for the Gardener News and we will be republishing some of his articles. Continued in 'About Us': Click Here
WHY all the FUSS about NATIVE PLANTS?
What are they and why they are important?. Get the definitions and why they are important and how to find out if a plant is native or not: Click Here in our 'Resources" section.
Looking around in NATURE: HIKES
Start planning where to hike for next year. NEW: Added: a list of conservation organizations that have preseves which are great places to see native plants. Click Here
BEAUTY and BEYOND
Get to know your native plants. Visit our Plant Profiles & Photos section for photos of not only the beautiful flowers but also their parts and what makes them work.
'GARDENERS NEWS' reprints
Hubert Ling as NPSNJ horticulture has been writing articles for 'Gardener News' since 2015. Some of his articles are being reprinted here. See them at Resources .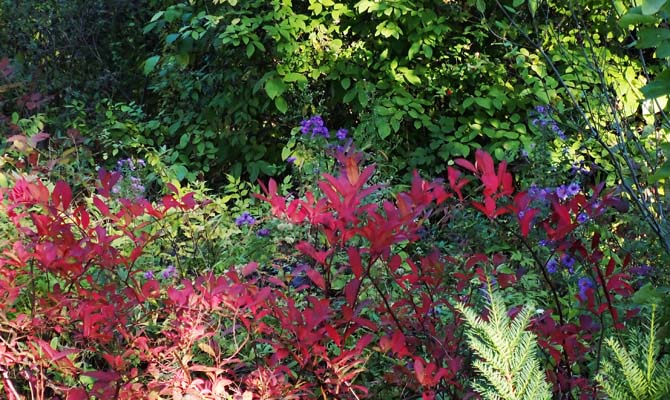 Autumn with Virginia sweetspire, (Itea virginica) and New England aster (Symphyotrichum novae-angliae) giving color.

All things bright and beautiful,
All creatures great and small,
All things wise and wonderful,
The Lord God made them all.
(Anglican hymn)

Study and photography unfolds a whole new dimension of intricacies and interdependencies that commands deference and awe.
"The Lord God made them all"