Home Hikes River Road Park, Bedminster Township, Somerset County, NJ. - Fall
River Road Park, Bedminster Township, Somerset County, NJ
Early Fall - September 15, 2022
Information on the River Road Park, Bedminster Township, Somerset County. Bloomsbury, NJ 08804 : general information with map
A meadow of goldenrods glistening gold in the sunshine

It was a cool break from the continuing summer heat. We decided to go locally and see whats in the meadows.
First we went to River Road Park where we had been to before and we knew there were big fields there.We were greeted with a meadow ablazed with goldenrods.
Grassleaved goldenrod (Euthamia graminifolia)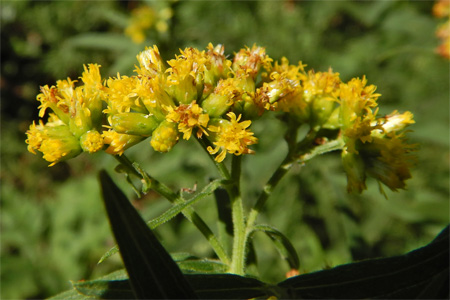 Many brightly flowering goldenrods in need of identification!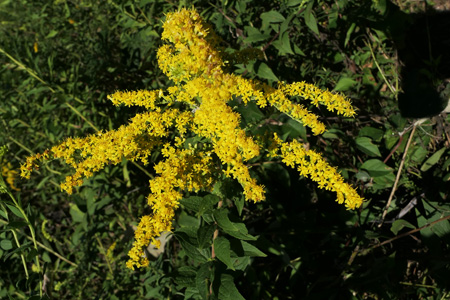 Our big find was this milkweed in the middle of the meadow. Looking at the fruit and the leaves we were not able to definitively idendify it. We will be coming back next summer to look at the flower.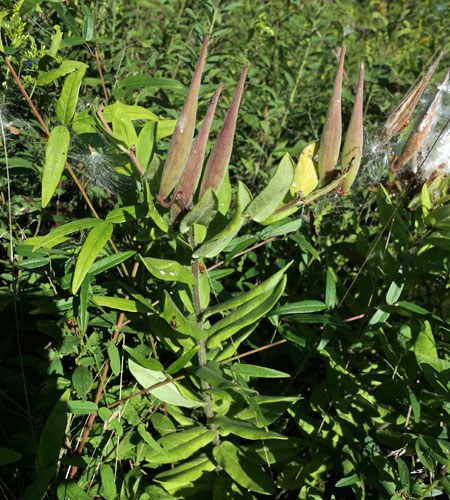 Next we headed over to Alberte Winkler Jacob Snyder Nature trail or Miller Lane Park in Bedminster. Since it was a nature trail we were hoping to see some native plants. It was a nicely paved hike & bike trail shaded with trees and mainly invasive bushes etc. We took a short walk and left
Next we headed back to River Road Park, and took the trail opposite (across the street) to the entrance to the park. The trail goes down to the North Branch of the Raritan River and then turns right to follow the river. We revisted this trail on the 17th.
Most striking along this trail was all the beautiful yellow wingstem (Verbesina alternifolia) with populations all along the trail on both sides. This was the highlight of the day!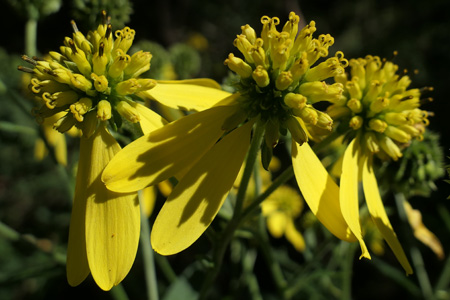 This is one of the few non-native geraniums found in the US, Siberian Geranium (Geranium sibiricum)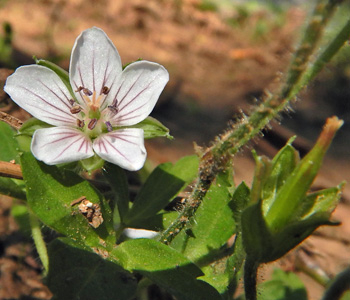 We came across some bur cucumber (Sicyos angulatus) which is a herbaceous annual vine which is becoming a problem for the agriculture industry in NJ. Photo of male flowers.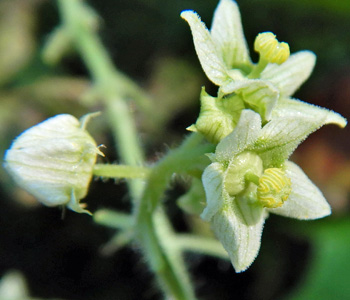 White turtlehead (Chelone glabra), an unexpected native.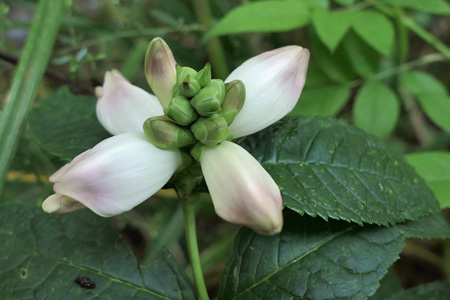 These large wingstem (Verbesina alternifolia) plants manage to fight off the invasives and establish themselves well creating a wonderful trail

Text by Millie Ling and photos by Hubert & Millie Ling